You want to leave the past behind and think about the positive future.

You would like to strive for social interactions.

You want to feel good in your body.

You want to be self-confident.
People who suffer from social anxiety
People of 25-35 year-olds who suffer from overthinking
People who are insecure with their bodies
Recognize your mind is playing with you. But remember, you can play with your mind too. Use it for overcoming social anxiety, overthinking, and becoming self-confident!
We support you in this with our new guide.

The most important topics
sum­marized in one guide.
13.500 confident owners so far
Get your money back if you
don't see any results
Recommended by experts
Order Now
Finally self-confident!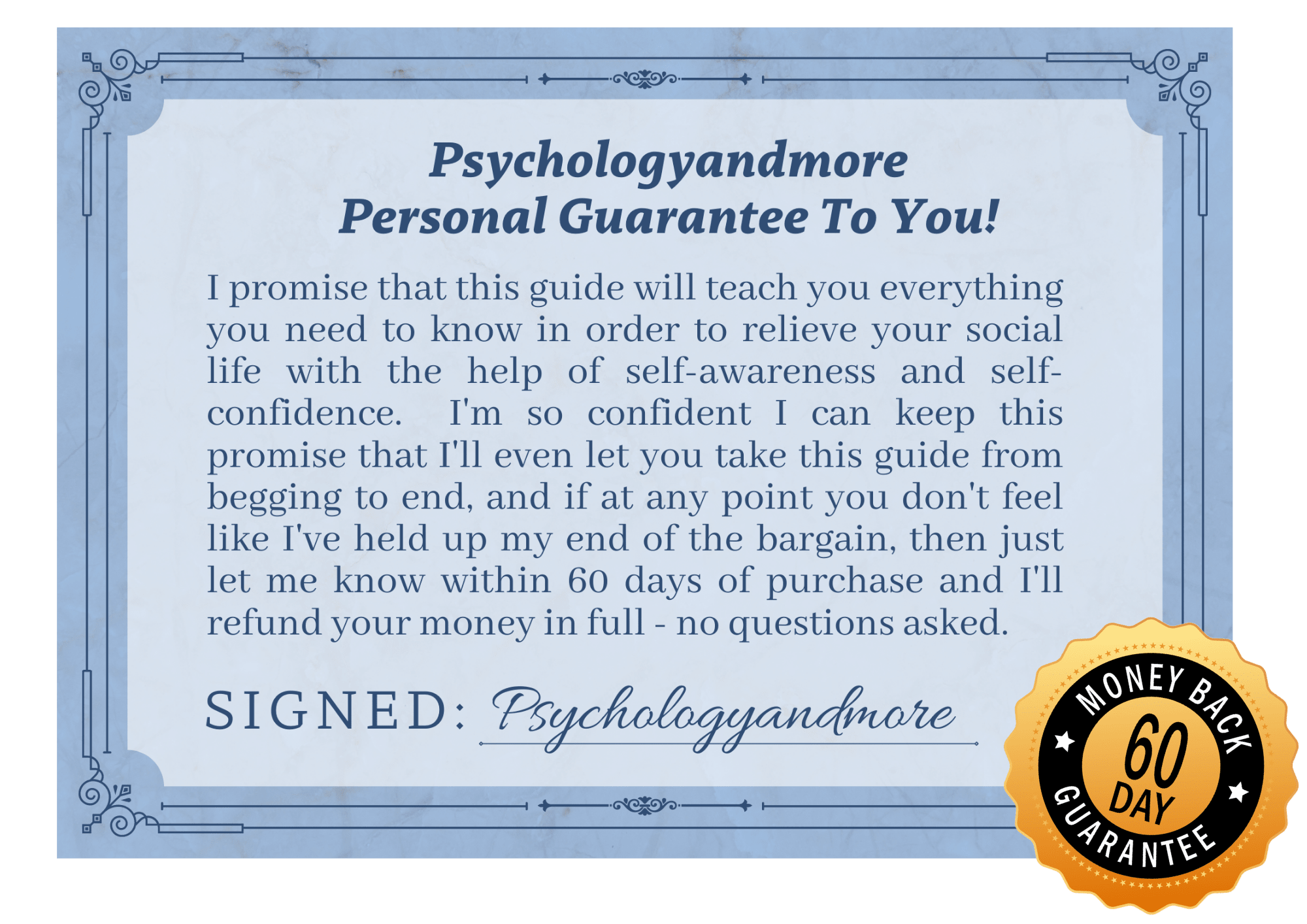 About this guide
Hi! At Psychologyandmore, we are a young team dedicated to issues regarding mental health. Most likely, you will know us from social media by the name @psycholgyandmore.
More and more people suffer from mental stress, and it is still a taboo subject in today's society. That's why we have made it our specific mission to normalize talking about mental health problems. It is significant to us that mental problems are perceived the same way as e.g. an injury in sports. Because in fact, they are very similar. It is our goal to educate everyone about this controversial issue via social media. Across various social media platforms, we have been able to reach millions of people and educate them about psychology and mental health. We have successfully helped many solve mental issues like social anxiety, overthinking, specific phobias, panic disorder, and other general mental illnesses. Never could we have ever possibly imagined such an incredible response from our community. We consider this to be a big blessing. Since social media is very fast-paced and possibilities to share content are limited, we have decided to take the next step and start a new project.
Our goal
Nowadays, there are countless mental illnesses. For this reason, we have decided to deal with a specific topic concerning mental health that is one of the most represented in today's society. Knowing about it can even be helpful for people who do not excessively suffer from it. We are talking about social anxiety and social fears in general. These refer to the fear of being permanently observed and judged by others. Many also label this behavior as shyness or fear of social interactions. Typical symptoms of social anxiety include trembling, nervousness, sweating, stuttering, panic attacks, and more. Of course, that is only a brief explanation. It contains much more than just that.
Because this topic is very profound and affects many, we decided to create a book. Personal development and self-improvement are a big part of everyone's life. This book is based on current studies, expert opinions, inspiration from other books, and personal experiences. Apart from being an informative book that explains social anxiety, the guide's main goal is to overcome these fears. For this reason, it is much more of a "program" or "guide". In addition to many easy-to-understand explanations, the book offers tips & tricks as well as specific tasks to overcome your fear. It is our mission to teach you how to overcome your social fears with the help of self-confidence, self-awareness, and self-love. We want you to live freely as soon as possible.
My personal story
For me personally, being the author and CEO of Psychologyandmore, this is a real heart project, I suffered from this social anxiety and have withdrawn from social interactions with anybody but my very closest friends. At that time, I didn't think it was possible, but I was indeed able to overcome these fears. Now none of them influences my life anymore, and I don't shy away from social contact. On the contrary, I even love it. I actively approach people. And since I was able to achieve this, I would like to share this success with you.
Looking back, it was not even as difficult as I had thought before. Sure, it's easier said than done. But trust me, it can be done.
Since we have already helped a broad range of people with our content on social media and also this book, we hope you will be the next in line. But be aware that our book will not solve your problems all by itself. It will only guide you with effective exercises and much more. You must have the intrinsic motivation to take the next. No one can give you that. Start today if you are ready to change your life! We believe in you. After working through our guide, you will feel more confident, you will stop overthinking, and you will have a very high level of self-awareness.